You can find our beers coming directly to the brewery Brasserie Saint-Germain. We will know how to welcome you with friendliness and warmth to make your experience unforgettable.
Brewery Tour
You can visit us only the saturday if you are just a random visitor. We are offering different visits shapes. Individual visits : Every Saturday at 10am, 2.30 pm and 4pm at a rate of 6 € per person. For groups (30 people) : in week, preference for the afternoon on reservation and depanding on availability by calling 03.21.72.24.24 at a rate of 5 € per person. This price include 1 visit hour, commented tasting* and a gift. The visit begins with an historical explanation and continues with the facilities discovering. A beer tasting concludes the visit.
*Two beers of 12.5 cl 
Page 24 Shop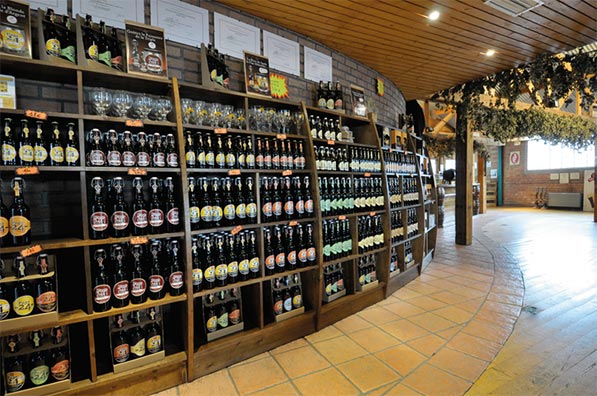 The shop is open from Wednesday to Friday between 10 a.m and 12 p.m then between 2 and 7 p.m. Saturday : 9 a.m to 12.30 p.m and 2 p.m to 6 p.m. Find the full Page 24 range, numerous boxes and derivative products. Also take advantage of the latest news in preview. For your events like weddings, birthdays, associative celebrations, concerts, it is possible to rent professional beer pumps. Whether you are an association or an individual, this isn't a problem. We also take back unopened barrels. For more informations, Reach us or Call.
Tap Room
Next to the shop is hidding our TapRoom where you can taste our beers. Incidentally, it is open on Friden from 2 p.m to 7 p.m and Saturday from 10 a.m to 12 : 30 p.m then from 2 p.m to 6 p.m. 5 beers are available on tap and we also offer cocktails made with TOS Distillery spirits. Bottled beers are also available, the atmosphere is warm. Différents events like the broadcasting of football matches, concerts are often organized there to entertain the crowds ! Good beer and good humor guaranteed.
The TapRoom is also available for rent only for professionals. It has a screen and a video projector. Reach us for more details.